Now Hiring Certified Flight Instructors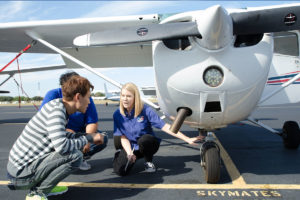 Skymates Flight Academy is seeking Certified Flight Instructors to become part of our team. Instructors at Skymates will train students in our fast-paced programs which translates into building flight hours quickly. Our instructors can fly 100+ hours a month.
Seeking:
FAA CFI- Certified Flight Instructor
FAA CFII- Certified Flight Instructor Instrument
FAA MEI- Multi-Engine Instructor

Must be legal to work in the USA

Skymates Flight Academy offers a $2,500 sign on bonus for those who will successfully complete standardization and up to $500 for relocation/travel expenses.
(contact us to learn more about the details)

Competitive pay $30 – $40 per hour based on certificates held

Qualified applicants who hold their CFI can earn their CFII and MEI being a part of our Instructor career pilot program.

Significant discounts on additional Instructor ratings

Career advancements are available, we are always looking for motivated individuals wanting to become Check Pilots or Assistant Chief Pilots. Health Insurance, benefits, and discounts are available.